The Ashanti Regional Chairman of the governing New Patriotic Party (NPP), Mr Bernard Antwi Boasiako says the claim that he is working to destroy the party he leads is "unfounded and hollow".
Addressing the media at Asokwa on Wednesday, Mr Boasiako said he had worked his life to support the NPP and to defend same at all times.
He noted that the claim by Kennedy Ohene Agyapong, an aspiring flag-bearer of NPP and MP for Assin Central was therefore false and insulting.
"I have by the grace of God worked snd supported this party i lead as regional Chairman and so I will be the last person to do anything to either bring it down or destroy same as being suggested by Kennedy Agyapong", Mr Boasiako stated.
Insults:
The Regional Chairman said that what could destroy the NPP was not his conduct but the attitude of persons whose stock in trade was the churning of falsehoods and insults on party persons and leaders.
Wontumi, as the regional Chairman is fondly called noted that as a well trained person he doesn't believe that resolving issues was to use insults and threats.
Threats:
Mr Boasiako said he has for too long endured the insults and threats on his life by Hon Kennedy Agyapong but noted that he would cause the arrest of the Assin Central MP if he threatened
"From henceforth i will report and cause the arrest of Kennedy Agyapong if he threatens me again", the regional chairman stated.
Reaction: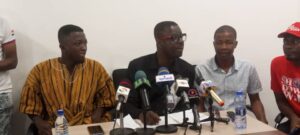 Reacting to the press conference by the regional Chairman same day at Pataase, Lawyer William Kusi, Ashanti Regional Spokesperson for Ken Agyapong Campaign insisted that the behaviour of Mr Boasiako since the flag-bearer contest began showed that he wanted the party to disintegrate.
He noted that rather than staying neutral as regional executive of the party as enjoined by the party's election regulations, Chairman Wontumi had showed bias towards the Vice President and has been openly campaigning for him.
"You have by your attitude since the flag-bearer campaign began showed an open preference for the Vice President and you even used his campaign office to address the media when you were talking to them in your capacity as Regional Chairman and this shows you are unruly and a person who is on a destructive path", Lawyer Kusi noted.
Story By Michael Ofosu-Afriyie, 
Kumasi.