CAPTION 
Ali Maradona 
STORY
ALL ROADS in Canada, in North America, will lead to Toronto, this coming Saturday.
A massive get together to celebrate Kotoko's league victory will take place on the day.
Alhaji Ali Maradona, Kwaku Tawiah aka 'Milo' and Edwin, are the organizers of the event.
The trio are dyed-in-the-wool supporters of Kotoko, who are now living in Toronto, Canada.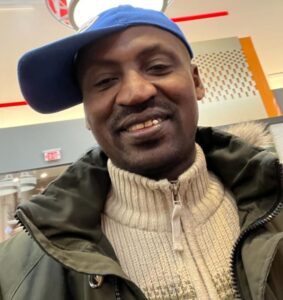 Speaking with Press1News, Ali Maradona said Kotoko is known all over the world.
He said Kotoko has huge followers in Canada "and we want to celebrate our league victory".
According to him, Asanteman Canada Association and other groups will attend the event.
"We will serve food and drinks to the Kotoko supporters at the get together", he said.
Ali Maradona said Kotoko's next birthday, which falls in August "will also be celebrated here".
He lauded the Kotoko players for winning the league, urging them to conquer Africa.
By I.F. Joe Awuah Jnr