VEHICULAR TRAFFIC flow in Kumasi, the capital of Ashanti Region, was impeded on Saturday afternoon.
The King of the Asantes, Otumfuo Osei Tutu II, returned to the busy city from the United Kingdom (UK) on the day.
The Asantehene and his wife were returning home after attending the coronation of King Charles III in London.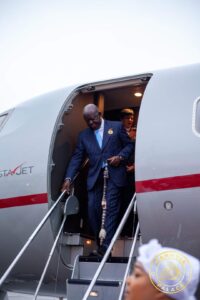 Earlier on, the Kumasi Airport was filled with a sea of people, who welcomed Otumfuo and Lady Julia back home.
And as expected, thousands of people also stormed the ceremonial streets in the city to welcome their king home.
The presence of the excited people in the streets, caused massive vehicular traffic as vehicles could not move.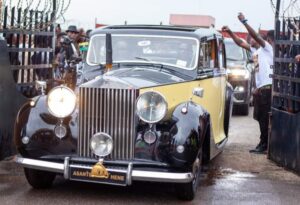 The affected streets included Airport Roundabout, Adum, Dr. Mensah and Apagyahene are, just to mention a few.
It took the timely intervention of security men, including soldiers and policemen, to contain the charged crowd.
The rousing welcome that was accorded to Otumfuo, once again, showed how the people of Kumasi love and adore him.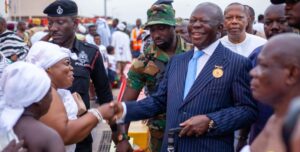 Otumfuo and Lady Julia who rode in a beautiful looking Roll Royce vehicle, intermittently waved to the crowd.
There were reports of merrymaking in the Manhyia Palace to celebrate Otumfuo, who turned 73 years, recently.
FROM Nana Achiaa Adusei Poku
Kumasi