THE GOVERNING Council and Members of the Young Professionals and Youth Coalition (YPYC) last Saturday conferred special honors on Despite Group's veteran journalist, Sampson K Nyamkye.
The Non-Governmental Organisation (NGO) named Mr Nyamkye as the recipient of this year's Africa Role Model in Journalism & Media award which is popularly referred to as the Komla Dumor Award.
Presenting a signed citation accompanying a trophy in Kumasi, Mr Andy Osei Okrah, Founder and President of YPYC, said the Hello FM's General Manager and veteran journalist had over the years demonstrated excellence in his work and was deserving of the honor.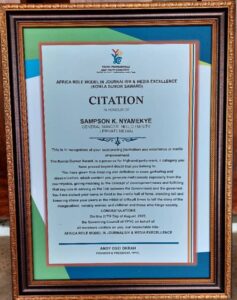 The group also commended the respected media personality for being meticulous in information gathering.
Details:
YPYC President described Mr Nyamekye as a person who painstakingly assembled pure and factual content from the countryside.
The citation also noted that the content generated by the media icon was development centred.
These contents, the statement mentioned provided an avenue for the government and the governed to have information and feedback as well as results in a timely manner.
Summing up, the YPYC said the exploits of Mr Nyamkye gave meaning to professional work that brought results to the Ghanaian people.
Appreciation:
Speaking to the Ghanaian Observer Newspaper Saturday evening, Mr Nyamekye who is a staunch member of Calvary Charismatic Center (CCC) said the award was humbling on his person.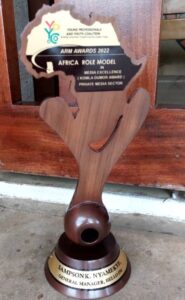 He noted that every thing he had done in life has been to use the talents God has given to him to contribute to the development of Ghana.
Mr Nyamekye said every story he had gathered and content he has ever generated has been to get results to address a situation or to bring relief to people of the country.
"I commend the YPYC for searching to find persons who were quietly working for the development of the Country and for me I believe this will spur me on to do what I do best so that collectively we will help to better the lot of the Ghanaian people", Mr Nyamekye noted.
By Michael Ofosu-Afriyie 
Kumasi