PIX: Mr. John Laryea Odai-Tettey, Ashanti Regional Director for Food and Drugs Authority (FDA) inspecting a product from an exhibitor at the Green SME networking Festival
Story:
SMALL AND  Medium scale Enterprises (SMEs) in the Ashanti are meeting to discuss ways and means they could undertake their businesses without a strain on the environment which is causing global warming.
The three day forum has been put together by the Ghanaian and German governments with the German International Zusammenarbeit (GIZ) and the Ghana Enterprises Agency (GEA) as promoters of the engagement.
Addressing participants at the opening ceremony on Wednesday morning, Mr John Buti, Team Leader for Invest for Jobs Group noted that businesses in Ghana would only attract the kind of investments they desire when they learn to operate in green environments.
He said serious investors take into account the environments businesses operate before reaching out for partnerships or mergers.
''In this rapidly changing world serious investors look out for businesses that undertake their operations in eco-friendly or green environments and those who deploy mechanisms that reduce the emission of gaseous substances stand the chance of securing partnerships'', Mr Buti intimated.
Details:
Giving details of the forum, the Team Leader said SMEs constitute the largest sector of the Ghanaian economy and the organisers are targeting them so they create awareness for them to use resources that would enable them to attract support and partnerships from the government.
The support the SMEs attain from government and other outfits, Mr Buti noted, would enable them to expand in business and create additional spaces for employment.
The leader revealed that the regional engagements are tailored towards creating employment avenues for 10, 000 people in Ghana through the ideas they would be churning out to investors and exhibitors.
''This program has been categorized to support SMEs to get support from Ghana and German governments and it is also aimed at empowering local companies to get certification and also to acquire business registrations to be in line for assistance or investments'', the Team leader revealed.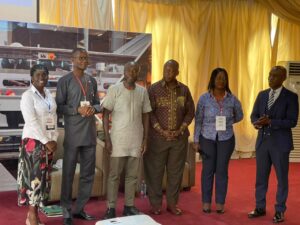 PIX: Mr John Buti, (third right) Team Leader, Invest for Jobs with some institutional heads at the Green SME Networking Festival, Kumasi Edition
Exhibitors:
Samuel Amankwah, CEO of PLANMEG Enterprise, a producer of biscuits made from plantain told this reporter that he was hopeful the forum would give him the opportunity to learn from best practices so that he could explore avenues to make his brand attractive internationally.
He was happy that SMEs had been provided an avenue to exhibit what they dealt in so that they could be contacted for support or partnerships.
Adwoa Ahenkan, a dealer in cosmetics said she was happy the Ghana Enterprises Agency had made it possible for her to attend the forum to learn and better her trade.
She was optimistic that the breakout sessions would provide SMEs opportunities to network and explore partnerships with other exhibitors and other government agencies.
Present at the forum were the regional representatives from the Ghana Chamber of Commerce and Industries (GCCI) as well as the Ghana Export Promotion Authority (GEPA)
By Michael Ofosu-Afriyie 
Kumasi