PASTOR JOSHUA Obeng, Resident Preacher at Calvary Charismatic Center (CCC) says rather than the world system which makes people to hold back during difficult times Christians are enjoined by Christ to share what they have with those who are in need. 
The world, he sadly noted believes that one gains when they hoard.
Speaking to the media at an outreach program christened CCC Workersfest on May Day where foods, clothing, items as well as services and games were served freely for the aged, youth and children from the church and residents in the CCC neighbourhood, the CCC Preacher said there was more blessing in giving to others than holding back.
"There is a misconception that rules the world and it tends to make people hold back to what they have but God wants us to cultivate and inculcate his attributes which is sharing and showing kindness to others who may be in need", Pastor Joshua stressed.
Workers Attitude:
Pastor Josh, as the preacher man is referred to by CCC congregants said he is aware of the activities of Ghanaian workers and how hard they work.
He however said some Ghanaian workers have very discouraging attitudes that seem to affect output from government and private establishments.
Pastor Josh said rather than putting off their best at their workplaces some workers dabble in absenteeism, lateness to work, underhand dealings, petty thefts and underdeclaration.
"I believe that if Ghanaian workers can inculcate into themselves the attributes of God and the mindset of working hard despite how low their salaries may be, God will through his infinite ways bless them and make them impactful", the CCC Resident Minister stated.
Services:
The CCC on the day extended free services to patrons where individual stands and canopies were mounted to house and host persons who had issues to discuss.
Some of the free consultancy services that were administered included health, legal, hospitality, cosmetology, artisanal, banking, architectural and entrepreneurial.
Speaking to reporters, Lawyer Akwasi Arhin of CCC said the initiative by the Church was very innovative and encouraging for members who needed legal advice and support access same.
Elder of CCC and member of the CCC health services, Dr Yeboah-Awudzi commended the Resident Pastor for the opportunity to serve members of the Church to enable them test to know their health statuses.
Foods and Games:
The church served freely continental and local food dishes and delicacies.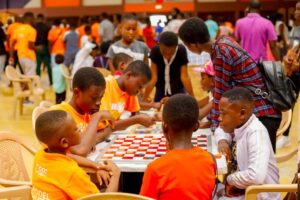 With all types of rice available other patrons also chose to eat typical Ghanaian foods such as Tuozaafi, Kwenkwen, Rice balls, Abete3, Banku, Waakye. Chicken and Tilapia was served alongside the foods that were made available.
Special attraction was the Children's joint where Auntie Miimi Acquaah, Head of the Children's Ministry had on display old foods and delicacies such as "kurikuri", "akrakoro" "ofam", "aprenprensa", "nkyekyera" and many others for the kids.
Games such as Chess, Basketball, Ludo, Oware, Chaskele, Trampoline, Bouncy Castles and many others were competed and participated in by patrons.
Jesus Boutique:
Patrons who enjoyed the free food and other services as well as games later on had the opportunity to visit the CCC auditorium where stands had been mounted for persons to pick household items they needed.
Items on display were clothes, shoes, children's wear, confectionery, detergents, food items, electrical appliances and many others.
One joint that excited patrons was a corner that had been christened after the General Overseer as Pastor Ransford Obeng's corner.
The CCC leader who was present at the day out event had brought to share with members over 500 pieces of clothes including suits, shirts, smocks and casual wear which he had never put on with other members also donating similar new items and clothing.
Story By Michael Ofosu-Afriyie, 
Kumasi