THE MAYOR of Kumasi, Hon Samuel Pyne on Tuesday night was honored by four different outfits at a dinner held for him in the City of Columbus -Ohio in the United States of America.
Comprising of the State of Ohio, Columbus City Council, Asanteman Association of Columbus and NPP-USA Columbus Chapter, these four organisations presented citations and plaques in honour of the Kumasi Mayor.
The citation from the State of Ohio said it was thrilled by the exemplary leadership Mr Pyne has displayed since assuming office as Mayor for Kumasi.
This, the statement mentioned was the catalyst the City of Kumasi needed to ensure it charts the development path it so desires.
Columbus City Council: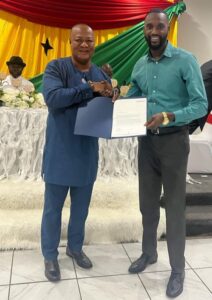 On its part, the Columbus City Council said it was honored to have the Kumasi Mayor visit its people and the city.
It noted that having led several initiatives to develop the City of Kumasi since becoming Mayor of Kumasi it desires to explore avenues in entertainment, sports and tourism for the benefit of both communities.
Shannon G Hardin, President of the Council said he was hopeful that the relationship between Columbus and Kumasi would be a lasting one.
Asanteman Association Of Columbus: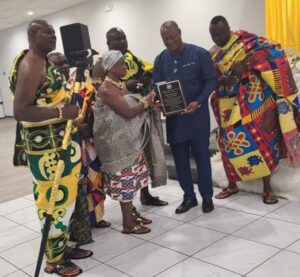 The Asanteman Association of Columbus on its plaque said it was thrilled with the commitment and hardwork of Mayor Pyne to develop Asanteman.
The group noted that it was sure by the industry displayed by the Mayor, the Kumasi Metropolis would see development as well as a clean environment.
NPP-USA Columbus Chapter:
The New Patriotic Party Columbus Chapter in a plaque said they had followed the work of the Mayor when he was Secretary for the Ashanti Regional branch and was sure that he would lead a transformational drive for Kumasi.
The group said it admires the mentorship trait of the Mayor and were confident that the fatherly qualities he possesses would be brought to bear in his work.
Appreciation: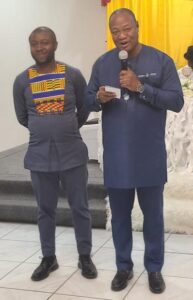 Hon Sam Pyne expressed appreciation to the four outfits and said he was happy with the reception accorded him since his visit to the USA last week.
He commended the outfits especially the State of Ohio and Columbus City Council.
He also praised the Asanteman Association as well as the NPP-USA Columbus chapter for honoring him in a manner that was humbling
"I must confess that since getting to the United States of America I have been overwhelmed with the love and reception and I want to take this opportunity to thank all those who played roles in organising every meeting I have held here and I promise to work together with you to make the Kumasi Metropolis attract the investments that could help it to be developed to become a modern city", Sam Pyne said.
By Michael Ofosu-Afriyie 
Kumasi