Caption:
Former President Kufuor with Otumfuo and Lady Julia
Story:
FORMER PRESIDENT John Agyekum Kufuor, has been honoured by his alma mater, Exeter College, University of Oxford, in the United Kingdom (UK).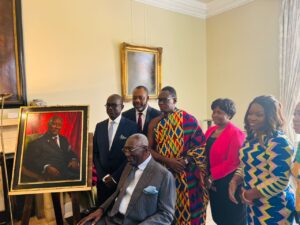 The portrait of Mr. Kufuor, who is widely respected in Ghana, Africa and across the globe,  was unveiled by the prestigious university on the day.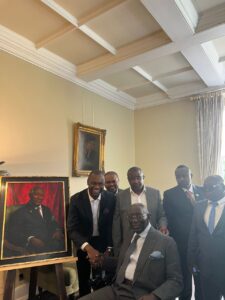 The colourful ceremony was held on Tuesday at the University of Oxford campus in the UK and it was graced by top notch personalities from Ghana and UK.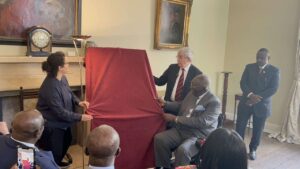 Top on the list of the dignitaries was the Asantehene, Otumfuo Osei Tutu II and his wife, Lady Julia, who were there to offer support to the ex-Ghana leader.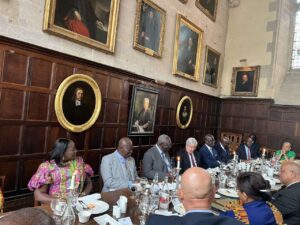 Also present, was the Minister of Energy, Dr. Matthew Opoku Prempeh aka 'Napo' and Nana Owusu Afriyie, the Otumfuo Apagyahene and other top chiefs.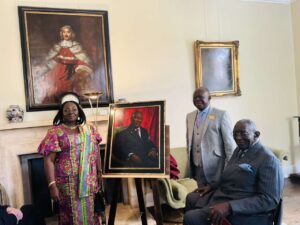 Some close relatives of Mr. Kufuor, such as Nana Owusu Prempeh and Ing Nana Poku Agyeman, the Kumasi Urban Roads Director, were also present.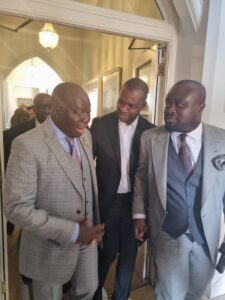 Also there to offer their support included Richard Adjei Mensah Ofori-Atta aka 'Tomtom' and other top dignitaries from both Ghana and the UK.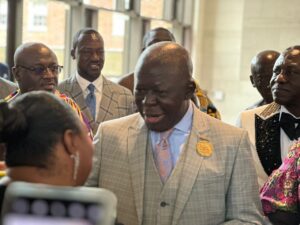 Former President Kufuor was in political office as Ghana's president for two terms, where he excelled to the admiration of all.
During his reign as president from 2001 to 2009, he introduced several social intervention policies such as the National Health Insurance Scheme (NHIS) and others.
FROM I.F. Joe Awuah Jnr.,
Kumasi