GENERAL MANAGER of MTN Northern Business District, Nii Adotey Mingle on behalf of the Company has donated food items and other consumables such as a Ram, 10bags of rice, a drum of cooking oil, 27 packs of soft drinks,10 cartons of mineral water and 1000gh worth of MTN airtime to the Ashanti Regional Chief Imam,  Sheikh Abdul Moomen Haroun at the Kumasi Central Mosque.
He commended the Chief Imam and Muslims for the sacrifice of fasting and prayer for the people of Ghana.
The General Manager pledged MTN's commitment to helping Muslims to celebrate the ensuing Eid after the Ramadan.
"MTN as a business entity is committed to supporting activities its stakeholders take particular interest in and for Ramadan and its ensuing EID the company sees it as a duty to donate to enable Muslim leaders enjoy its celebrations", the MTN officer intimated.
Similar Donations:
The General Manager mentioned that MTN was carrying out similar donations at the Western and Northern Regions of Ghana.
MTN Ghana,  he disclosed had committed about GHC90, 000.00 towards the upcoming Eid celebrations.
Pix: Nii Adotey Mingle (5th right), MTN General Manager Northern Business District presenting the food items to the Ashanti Regional Chief Imam, Sheikh Abdul Moomen Haroun at the Kumasi Central Mosque. With them are staff from MTN as well as officials from the Regional Chief Imam's office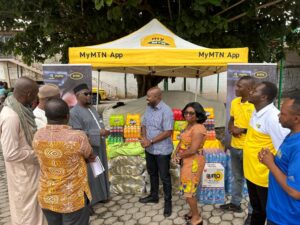 Sim Card Registration:
The General Manager urged the public to complete their sim card registrations, adding that MTN had set up at vantage points to enable patrons finish the processes in the registration.
The National Communications Authority, he disclosed had asked the various telecom companies to delete inactive numbers from their databases, adding it was needful for people to complete the registrations now.
MTN Bright Scholarships Application:
The General Manager revealed that MTN had opened its Scholarships application portal for needy but brilliant students to access.
He noted that the portal closes on the 31st May, 2023 and therefore encouraged interested students to complete the application on the MTN Ghana Website.
Appreciation:
Ashanti Regional Chief Imam, Sheikh Abdul Moomen Haroun receiving the items thanked MTN for the gesture.
He noted that the company has been consistent with this act of kindness for close to a decade.
He blessed the officials and wished the company many more successful years as a brand.
The Chief Imam used the occasion to caution Muslim Youth to desist from unhealthy practices as well as dangerous kinds of celebrations during the Eid.
"The youth are the future leaders of Ghana hence they should put up good behaviours and undertake any celebration associated with the EID in moderation", he stated.
Story By Michael Ofosu-Afriyie,
Kumasi