THE MEMBER of Parliament (MP)for Juaben and Deputy Minister for Communications and Digitalization, Hon Ama Pomaa Boateng, over the weekend donated dozens of streetlights with its accessories to the 19 electoral areas in her constituency.
The female legislator also donated bags of sewn school uniforms for basic school pupils in the 19 electoral areas.
Speaking at a brief presentation ceremony at her home, the MP noted that the community needed the lights so that it can deal with crimes that are associated with darkness as well as make the communities well lit at evenings.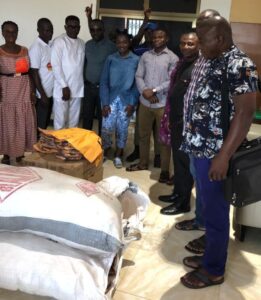 ''I am presenting these items through my able assembly members to the 19 communities under this constituency so that our areas would be lit at night and help to curb crime at night. I also want all basic school pupils to have access to these uniforms and even if they have some they could use these as back up and use the same to attend to school'', Hon Pomaa Boateng noted.
Details:
The MP later at midday met with the assembly members for the communities within Juaben to discuss some of the development projects they have in mind.
The MP had earlier met some NPP members including electoral area coordinators and executives to think through plans for the constituency.
Some of the issues discussed were the need to put in shape the road from Atia to Apemso to Juaben.
They also discussed the need to upgrade the school infrastructure levels in the constituency by replacing the old blocks with modern ones.
Appreciation And Requests:
Speaking on behalf of the assembly members, Hon Seth Owusu, Abetenim Ofoase assembly man thanked the MP for the gesture.
He noted that the items had come in a timely manner and hoped that the streetlights would help to improve security in the 19 communities in Juaben while the uniforms serve as motivation for pupils to be present in school for studies.
The Assembly man however asked for the construction of proper toilets for the people in the communities and suggested the idea of having the Ghana First  type of toilets.
The bad state of the Dumakwai and Adumasa police stations were brought to the attention of the MP.
Response:
Responding to the appeals and requests from the electoral coordinators of the NPP and the elected assembly members, Hon Pomaa assured them of support.
She asked for time to seek support from the government as well as places he could lobby for help.
The welfare of the community and its people, she noted, was a priority to her and added that the issue about having toilets for the people is dear to her heart.
''I am so happy meeting you for us to discuss issues that affect our lives as a people and I pray that you support me as I lobby for assistance from government and other sources so we can make Juaben a properly developed community in Ghana'', Hon Pomaa stated to spontaneous applause.
By Michael Ofosu-Afriyie 
Kumasi