The General Superintendent of the Assemblies of God Church-Ghana, pReverend Dr  Stephen Yenusom Wengam has advised single ladies in the church to live holy lives while waiting for marriage.
He said there was no dignity in sleeping around with men who have not married them.
Addressing the closing ceremony of the two day summit by the Assemblies of God Women's wing called the Young Singles (YS), Rev Wengam noted that God requires that Christian ladies keep their bodies pure and holy until they are married.
"I charge you as YS ladies and members of Assemblies of God Church that you preserve your bodies pure and as an acceptable sacrifice to God while you wait for marriage in the future", the GS stated.
Guest of Honor: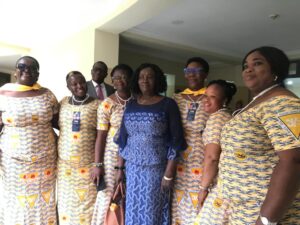 Vice Presidential candidate for the National Democratic Congress (NDC) during the 2020 elections, Professor Naana Jane Opoku Agyemang on her part admonished the ladies that while waiting for marriage they should find jobs to do.
She noted that women were capable to do whatever they desired to do including educating themselves to the highest level.
The NDC woman revealed that unemployment levels in Africa was around 12 million every year and this presents the opportunity to people to learn skills or vocations that would get them money to live their lives as responsible persons in the future
"The Ghanaian girl or woman possessed the potentials given by God for them to excel at whatever they desired to do and when we realise this we cannot sit idle but work to compliment the efforts of our future husbands or live on our own very well", Prof Opoku Agyemang posited.
Women's Organiser:
Rev Mrs Abu Baako, National Women's Leader and Vice President of Assemblies of God Church in Africa commended the efforts of women in the church.
She urged them to learn various forms of trade so as to become useful to themselves and the society.
National Organiser:
Rev Mrs Esther Oduro Dwomo, National Organiser of the Women's Wing and Coordinator for YS ladies urged the women in the church to live balanced lives by loving God and working for him.
She noted that nothing beats anything like serving God and relying on his promises.
FROM Michael Ofosu-Afriyie 
Kumasi