PIX: Dr Twumasi and two members of CCC sharing the word of God with two shop keepers in Adum on Saturday.
Story
Scores of members from Calvary Charismatic Center (CCC), a Kumasi based Charismatic church on Saturday embarked on an evangelism drive.
The aim of the outreach was to enable CCC members talk to others about Christ and to win every member of the street to the Kingdom of God.
Led by its leadership and Pastors, members from the church toured the nook and crannies of the city speaking to shop keepers, petty traders, street vendors, hawkers and sex workers in the central business district.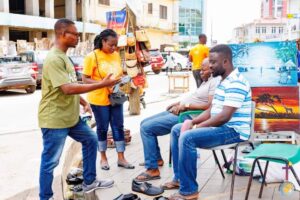 Clad in the Church's branded t-shirts, the members visited persons at the Paul Sagoe lane, Kessben FM street, Poku Trading, Hello fm stretch,  Adum ECG, Adum Prisons street and the National Investment Bank route as well as many others with the word of God.
Resident Pastor:
Speaking to the media, Pastor Joshua Obeng, Resident Pastor at CCC said the church was committed to leading the great Commission as commanded by Christ.
This command, he noted was for all believers to pass on their faith to others by talking to them about Christ and inviting them to make same decisions they have made to follow Christ all their days.
Pastor Joshua noted that CCC had been engaged in such outreaches across Ashanti every year but decided to reach Adum residents and traders with same this year.
"We are happy that all those we met received us well and by God's grace we were able to minister the word of God to them as well as invite them to our 29th October Feast termed the Great Invite where we plan to fellowship together with them and break bread at CCC", the CCC Resident Pastor stated.
Impressions:
Dr Isaac Francis Antwi, a member of the Asokwa SCD group of CCC said he was happy to be part of the outreach that had his wife and first child also taking part.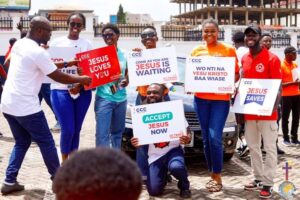 "I pray that Ghanaian believers would see the great commission as their personal mandates so that they could share their faiths with those who may not have heard the word of God or taken a decision to follow Christ Jesus", Dr Antwi stated.
Nana Adjoa, CCC media ministry member also thanked the leadership of the church for granting members opportunity to exercise their faith publicly and to talk to others about Christ Jesus.
"Some members of the CCC congregation at times lack the confidence including myself to talk to others about Christ. However for this opportunity i was able to publicly demonstrate my faith and i believe by sharing my conversion to others they would be inspired to do same and get to know Christ Jesus very well", Nana Adjoa stated.
Story By Michael Ofosu-Afriyie, 
Kumasi.