SIXTY NINE (69) brilliant but needy tertiary students in the Bosome Freho District have received scholarship support from the Member of Parliament (MP) for the Area, Hon Akwasi Darko Boateng. 
The Member of Parliament also assisted 71 traders in the district to enable them expand their businesses with others getting the opportunity to revive dying ones.
Each of the 69 needy students had their fees for the 2023/ 2024 academic fees catered for by the MP with the 71 traders receiving at least GHC 1000.00.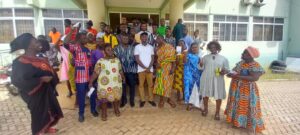 Speaking during the presentation ceremony, the MP, Hon Akwasi Darko Boateng said "I am happy i am fulfilling the promise i made to my constituents prior to the 2020 general elections by supporting needy students as well as weary traders with funds to revive their businesses as well as expand same for growth".
Desire: 
Hon Boateng said his vision is to ensure that he uses his office to lobby for support for all needy but brilliant students in Bosome Freho to attain tertiary and university education.
Additionally, the MP said he wishes to be able to resoure traders in the community with additional funds so they could expand their businesses and earn enough to keep their families and stay in business.
The MP said some persons who have been identified would also receive support alongside the 140 persons who had benefitted from the assistance he was giving on the day.
"My vision is to help build a highly educated, healthy and economically empowered community in Bosome Freho and i believe such assistance as being seen today would continue until we achieve that together as a people", Hon Darko stated.
Beneficiaries:
Frank Asenso, a 22 year old level 100 student thanked the MP for the support.
"Having passed with excellent results in the West African Secondary School Certificate Exams for SHS students (WASSCE) but with a poor family, I was wondering how I could be able to afford my university fees. However, I am thankful to Hon Akwasi Boateng for the kindness extended to me and the 68 others to attain tertiary education", Master Asenso noted.
Dinah Birago, a 34 year old beneficiary of the assistance to traders commended the MP for the timely support.
"My brother I must tell you that fear had gripped me about my business of selling fish because my capital had gone down and i was unsure how i was going to be able to sustain it but now due to the funds from my MP i know i would do well and be able to even expand my business", Madam Birago stressed.
Story By Michael Ofosu-Afriyie, 
Kumasi.