Caption
The scene of the accident 
Story
THREE PEOPLE have, reportedly, sustained injuries after a gas explosion at the Kumasi Shoe Factory.
Reports suggest a tanker was offloading gas on Friday afternoon when it suddenly exploded.
Three people, whose identities are not yet known, were said to have been injured by the blast.
They have since been rushed to the hospital for treatment, Press1News is aware.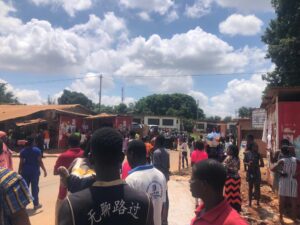 Meanwhile, there are contradicting reports, regarding the exact place that the gas exploded.
Some said it happened on the premises of the Shoe factory at Atonsu, in the Greater Kumasi area.
Others also claimed the gas rather exploded close to the Shoe Factory.
When filing this report, fire fighters were at the scene to control the situation and avert disaster.
More coming soon………
By I.F. Joe Awuah Jnr